Are you looking for the best pitch deck templates in the market? Are you in the journey of pitching investors to raise funds for your business? Then you are in the right place. We, at SlideSalad, have created many premium and free templates that suits your business needs.
Our professional pitch deck templates designers are very talented and has already created many business pitch deck templates for most of the presentation scenarios.
What are the Qualities of a Best Pitch Deck Template?
The best pitch deck template is a professional, minimal and attractive presentation file prepared using Microsoft PowerPoint, Apple Keynote or Google Slides.
The primary focus of a best pitch deck template is, the presentation should give investors a clear picture about your business which includes a brief introduction, vision, mission, team members, problem, your solution, competition, and the future.
What are the Common Slides Should be Included in a Pitch Deck Template?
A brief introduction about the business/company
Team members and their experience
The problem you are presenting
The solution you are introducing
The service/product you are proposing
Current market and the potential
Details about the existing competitors
How you are different from your competitors
Proposed milestones for the future
Investment amount you need to implement your business
Your complete contact information
What are the Different Formats of Pitch Deck Templates Available in SlideSalad?
In SlideSalad, we are focusing only on the compelling and industry-leading presentation software available in the market.
This includes Microsoft PowerPoint (PPT), Google Slides (Themes), Apple Keynote (For Apple Devices).
Microsoft PowerPoint Pitch Deck Templates
Microsoft PowerPoint Pitch Deck Templates are one of the best pitch deck designs that we made for a wide range of customers. We can say that; the most selling premium pitch deck templates are from this category. We believe, the main reason for these sales is the popularity of the Microsoft PowerPoint Software that by default comes with Microsoft Office Suite. Another big reason is the features and flexibility of PowerPoint (PPT) software as compared to other presentation software available in the market.
Google Slides Pitch Deck Templates
When it comes to the premium google slides themes for pitch deck templates, Google Slides Software comes to the second position in the popularity. Creating, editing, customizing and presenting pitch deck templates using Google slides is very easy and can be done by anyone who has basic knowledge in any presentation software. If you purchase a premium pitch deck template for Google Slides from SlideSalad, you can just finish your presentation project within a few hours.
Apple Keynote Pitch Deck Templates
The premium Apple keynote pitch deck template gets the third position in sales in SlideSalad. Even though Apple Keynote software is available since 2003 in the market, the popularity is not that much reached like Microsoft PowerPoint. Using our premium Apple keynote business pitch deck templates, you can quickly and effectively prepare stunning best pitch deck presentations for pitching your investors for your next startup business.
Top Selling Best Pitch Deck Templates Available in SlideSalad
1. Best Investors Pitch Deck – Investment Proposal Templates
The best investors pitch deck template is one of the top-selling pitch deck templates on SlideSalad. The template comes with 415 unique slides, 115+ stunning premade theme colors and 5500+ highly customizable vector icons. This pitch deck template is suitable for all the needs including business planning, marketing, sales, annual reports, startup presentations, business proposals, education, or consultation industries. This Best Investors Pitch Deck investment proposal template is available for Microsoft PowerPoint, Apple Keynote and Google Slides Themes. If you are looking for a Professionally Designed, minimal and neat pitch deck template for your next presentation, then this pitch deck template is a top choice. Please note, if you need multiple formats, then you have to buy separately.
2. Best Sales Deck Templates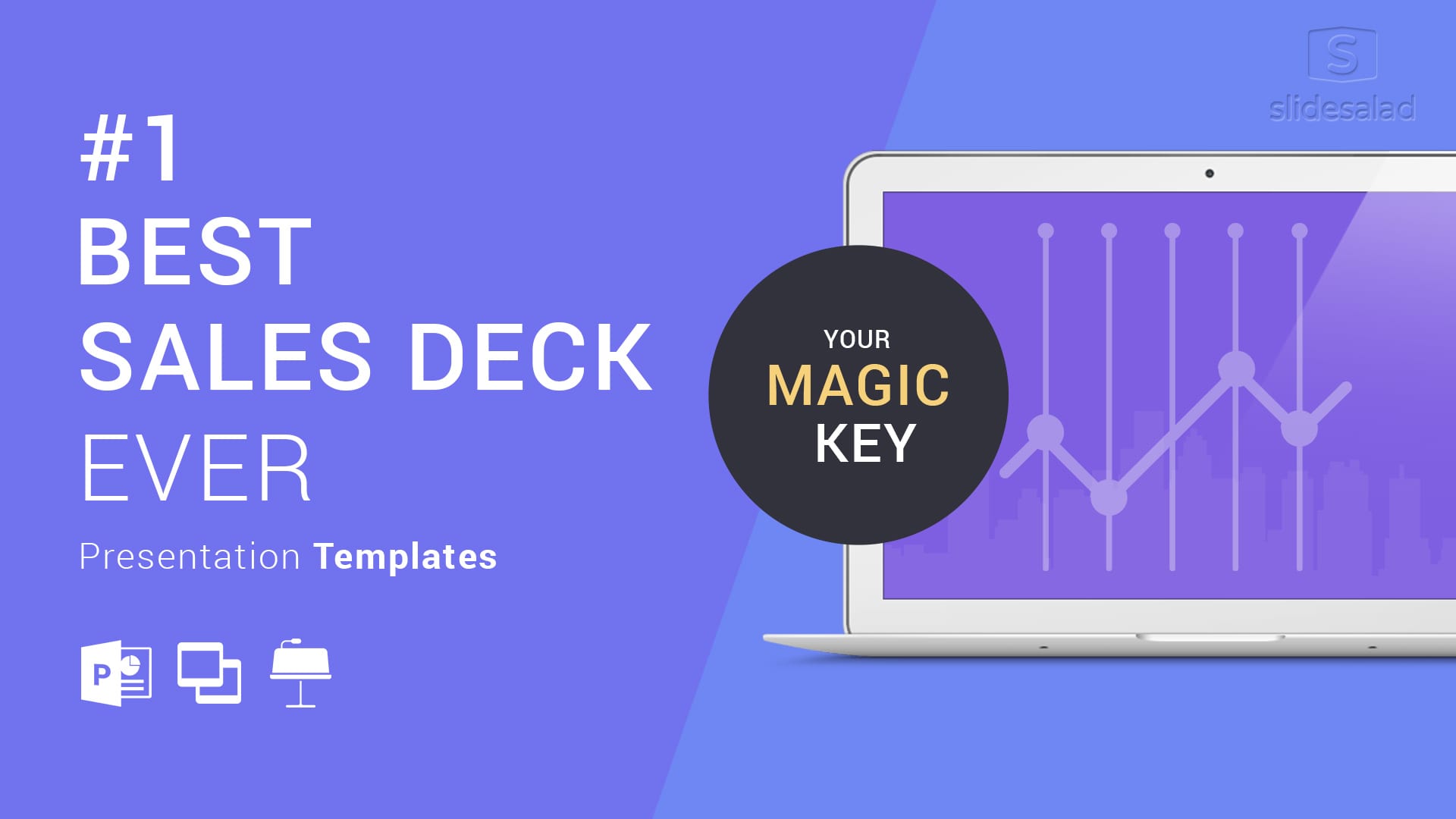 When it comes to the best sales deck template, then the "Best Sales Deck Templates" is the No.1 choice for you. In sales, the first impression is the best impression that you should never miss. To make that impression, you must need a tool for your sales presentation. Having our best sales deck template in your hands makes your job easy. This best pitch deck template contains 353 unique slides for making your presentation unique and professional looking. You can grab one from any of the three popular presentation formats available in SlideSalad: PPT, Keynote or Google Slides Themes.
3. Elegant Presentation Templates Designs
The Elegant Template Designs is a multi-business pitch deck template crafted for elegant, clean, beautiful and impactful presentations. This pitch deck template contains 180 unique and 100% fully editable slide designs. All the slides are designed for flexible and easy modifications. This elegant pitch deck template is packed with all the required slides including about, who we are, what we do, portfolio, team details, services, etc. If you are in research of fixing a best pitch deck template for your next presentation, then this elegant template is the best pick. You can purchase and use it as a PPT template, Apple Keynote template or even as Google Slides.
4. Simplicity Professional Business Templates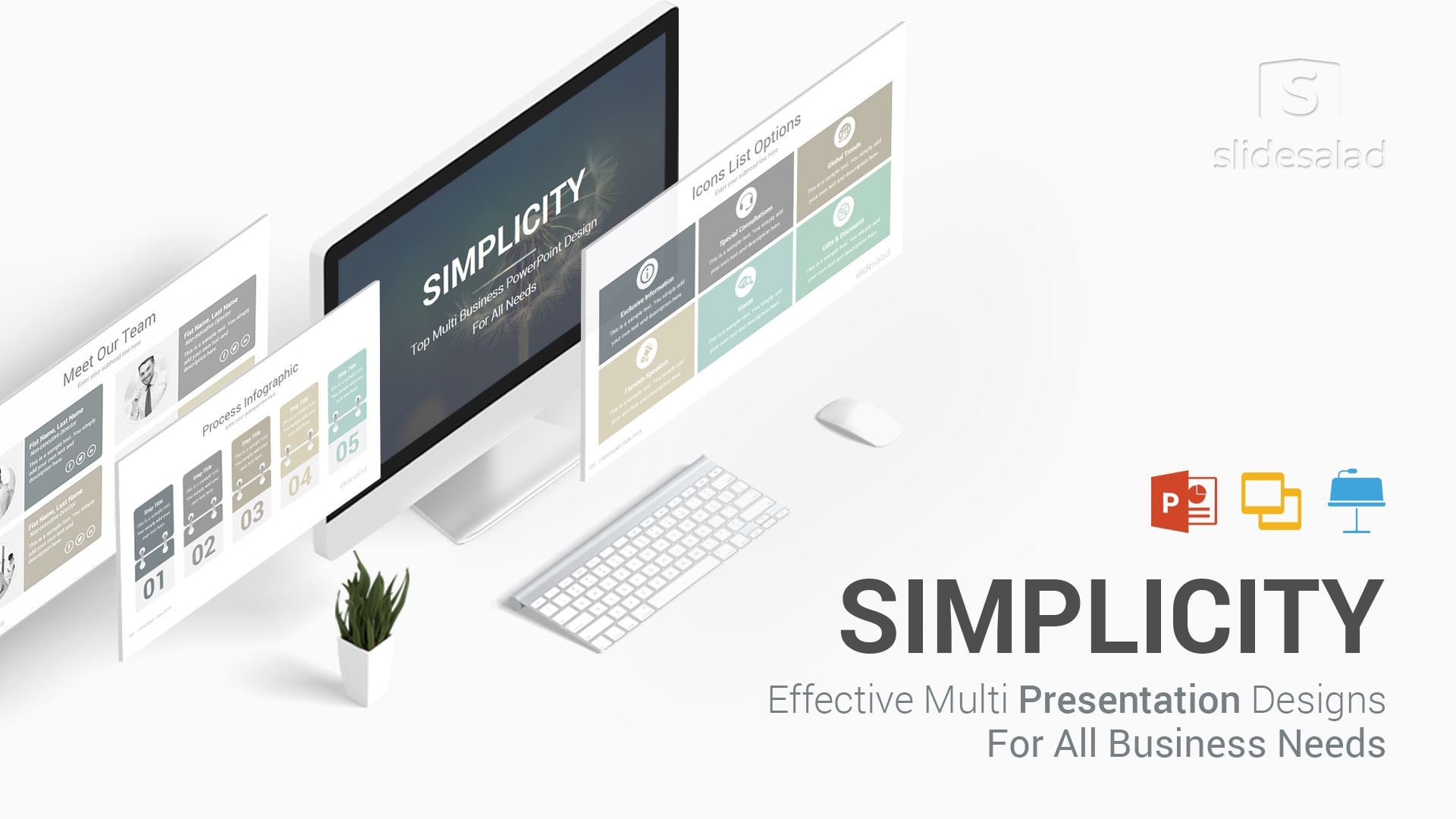 Similar to the minimalist pitch deck template that we introduced above, we have another outstanding template named "Simplicity Professional Business Templates." This template also comes with all the three standard formats. The main attraction of this pitch deck template is, this presentation theme is heavy loaded with 300 unique slides, which can be turned into a clean and professional presentation. With the support of more than 110 premade color schemes, 5000+ vector icons, converting this pitch deck template to a masterpiece is just a matter of a few hours. You can even spice up your presentation with our professionally applied animations to the slides.
5. Multi Business Presentation Templates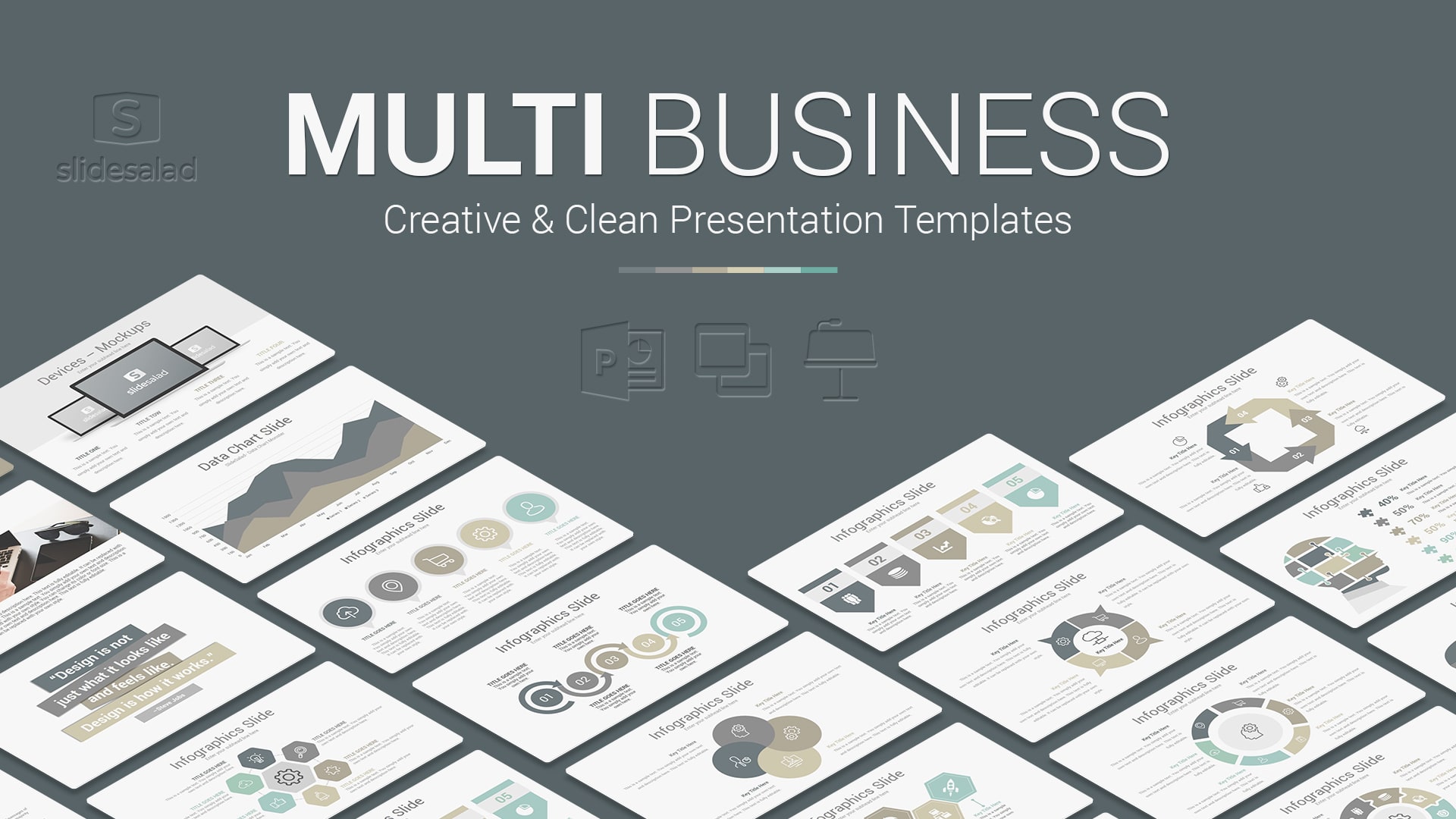 Same as the name says, the multi-business presentation template can help you to dominate any types of pitch deck presentations. This premium pitch deck can be one of the best pitch decks you've seen in your life. The different 210 slides used in this template is more than enough for your all requirements needed for a successful presentation for your investors or business entities who want to support you. Same like other templates available in SlideSalad, this leading professional presentation template also comes in PowerPoint, Keynote and Google Slide Themes software formats.
6. Modern Company Profile Templates Designs
Looking for inspiration for the best company profile? Want to know what's a good template for a pitch deck? Want to present your company profile with your investors professionally? Don't have enough time to create a unique company profile design for your board meeting? Want to know how to structure a startup investment pitch deck? If you are desperately finding an answer to these questions, then our "Modern Company Profile Template Designs" can help you. This product is the best pitch deck template you are looking for. This modern presentation design can help you to present your company profile to your potential investors beautifully by utilizing the power of 275 stunning slides. Buy this template from SlideSalad in any of the convenient presentation formats like PowerPoint template, or Keynote template or as Google Slides templates.
7. Business Golden Pack Multipurpose Presentation Templates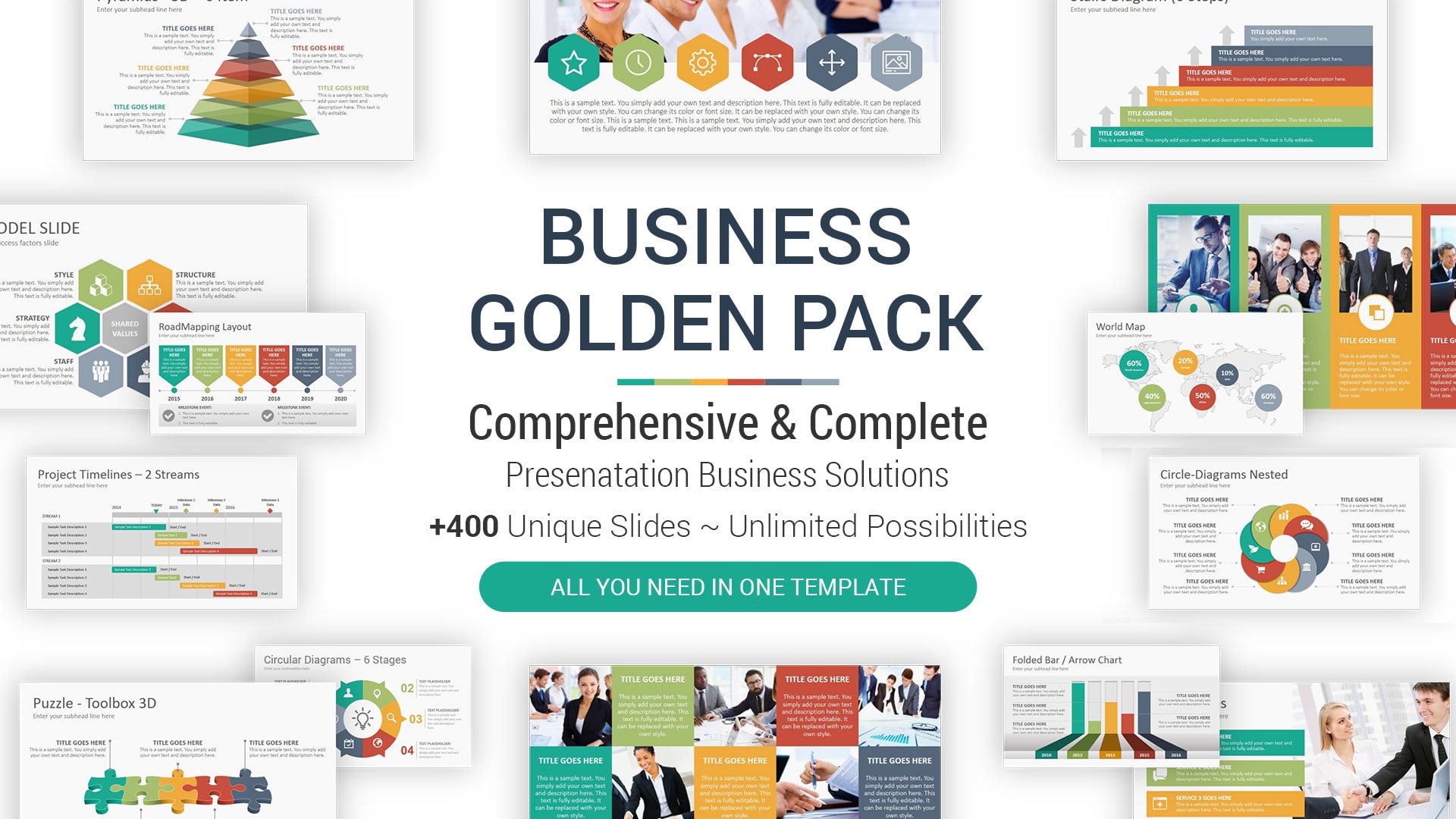 For some investors, a small presentation or overview of the business plan won't be enough. You have to clearly explain your business plan by properly explaining the agendas to your investors. In that case, a simple pitch deck template won't be a suitable fit for you. However, by using our "Business Golden Pack Multipurpose Presentation Template," you got everything you need to wrap up your business story. During the preparation of your business or startup pitch deck presentation, many questions may arise in your mind, for example; What I should include in an idea stage startup pitch deck? What are the best ways/tools to create a pitch deck online? How do people design the perfect pitch deck? Alternatively, you may even ask your friends that what's one of the best pitch decks you've seen? The only answer for all your questions is the Business Golden Pack Multipurpose Presentation Template. This huge presentation pack comes with 405 heavily customizable slides to successfully present your pitch deck presentation for your investors.
8. Complete Business Solutions Multipurpose Presentation Templates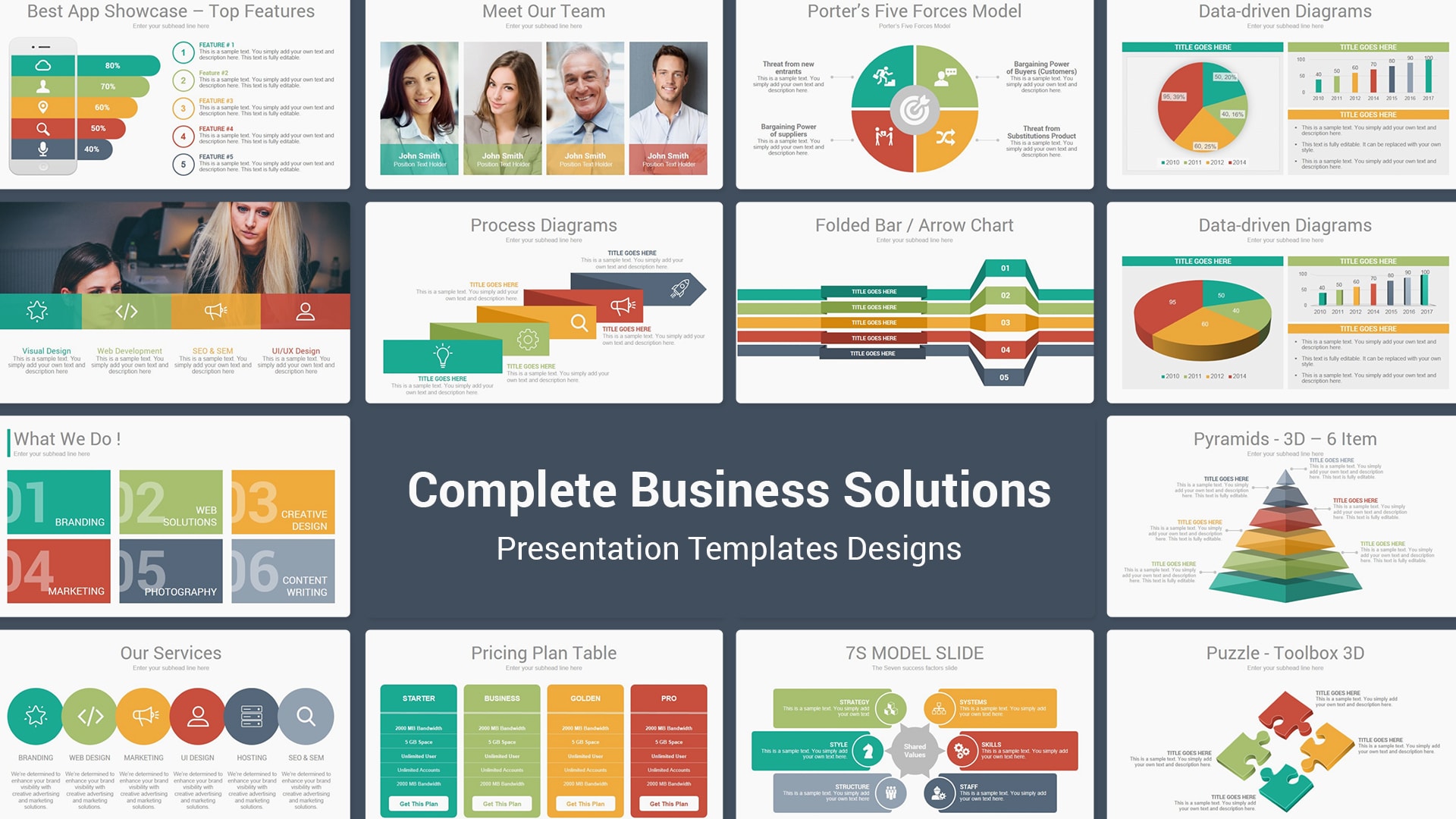 Similar to the above-mentioned golden pack presentation template, this pitch deck template also covers the complete possibilities needed for a successful pitch deck presentation. With the power of 341 different slides, many color schemes and thousands of vector icons, this best pitch deck template powers the energy needed for a full-fledged presentation event. This is one of the top-selling multi-purpose presentation templates that can be used for any pitch deck niches including startup meet, investment meetup, fundraising events, etc.
9. Pro Minimalist Presentation Templates Designs
Companies, enterprises and corporate businesses use professional, minimalist and clean designs. They believe in simplicity and professionalism. That's why we have "Pro Minimalist Template Designs." This is one of the best pitch deck templates that comes with 172 variety of unique slides, including thousands of vector icons and color themes. The Pro Minimalist Template Designs template is having many topic-focused slides including the data charts, country maps, flow-charts, and attractive timelines. This professional pitch deck template is also available in PowerPoint, Keynote and Google Slide Themes formats.
10. Simple Presentation Templates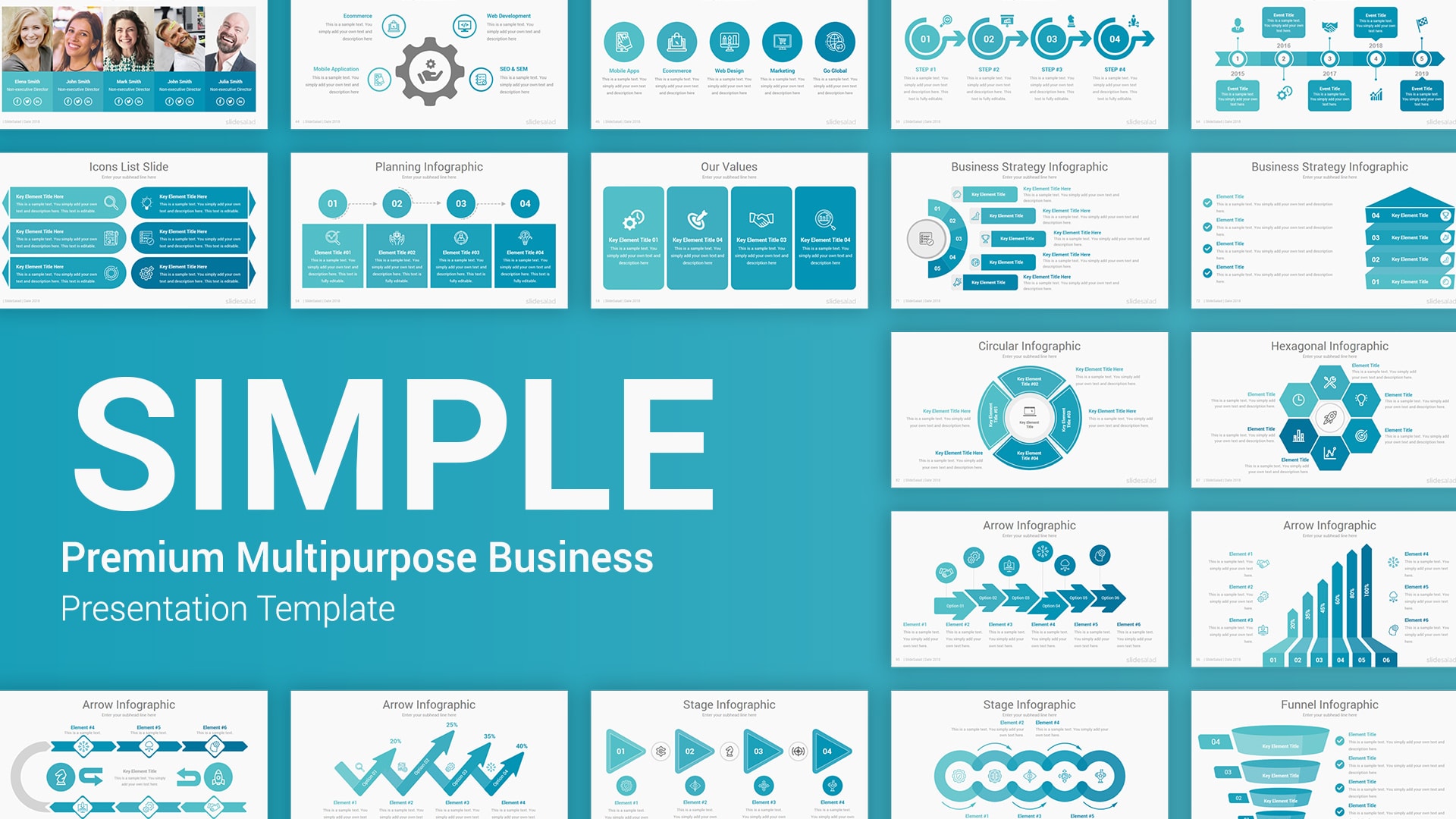 Creating a professional yet simple design is not an easy task. However, we did the homework for you by creating a "Simple Presentation Template" by picking up the essential slides for your next pitch deck presentation. Want to create an investor pitch deck in 48 hours? Want to know how do people design the perfect pitch deck? Then try this simple presentation template for pitching your investors for your next startup business. If you are a CE0/Founder/Managing Director, who is actively looking for a simple pitch deck template for your next investors meet, then choose this template to leverage your presentation! Whether your software is Microsoft PowerPoint or Apple Keynote or even Google Slides, we have the formats for you.
11. Elevator Free Pitch Deck Templates
The Elevator Pitch Deck template will help you showcase your business project quickly and convince potential investors to invest in your business, use our elevator Free Pitch Deck Templates to summarize all information about your company or project in a short amount of time.
Our Free Pitch Deck Templates come up with clean slide design ideas to show your confidence and determination while impressing your audience with an informative and well laid out presentation. You can adapt it easily to your branding colors just in one click, Use it to design a fresh presentation for inspiring startup presentation, new product launching, or personal use.
Why You Need a Best Pitch Deck Presentation?
Even multi-billion-dollar companies started as a startup business. However, they succeeded by getting the right investors for their startups. To get good investors, you must spend time on creating the best pitch deck presentation for your startup business. Since the pitch deck presentation is a time-consuming process, you can buy one of the best pitch deck presentation templates from SlideSalad. You can purchase these trending pitch deck templates as a PowerPoint template or Keynote template or as Google Slides themes. The main focus here is, the premium pitch deck templates make your job easy without compromising the design quality.
Why is SlideSalad known as the Best Pitch Deck Template Provider?
We are not focusing on quantity, and we don't compromise on design quality. Our team is very much concerned about that. That's why SlideSalad got 99% of customer satisfaction reviews on our pitch deck template sales ever done in SlideSalad. We can proudly say that we are the no.1 premium presentation provider on the internet. We are sure that, if a customer purchases a pitch deck template from us, that will be more than enough for the needs of their presentation. So we are confident to say that they don't require to buy anything additional from any other template providers on the internet.
When we develop a pitch deck template for our customers, we make sure that the slides available on the presentation file cover all the standard topics needs to be there for the outstanding results. Our designing team carefully do many pieces of research before we start designing the presentation file.
For this collection of best pitch deck templates, our designers did thorough research on the process of pitching a potential investor for raising investments for the startups.
We Make Best Pitch Deck Templates for Startup Companies
SlideSalad was also a startup company a few years before. So, we are very much aware of the pain of pitching an investor for our business. We spend many weeks to design and organize our pitch deck template for our presentation. Moreover, our professional PowerPoint Presentation profoundly convinced our investors.
After that presentation event, we started focusing on building top pitch deck templates for startup companies. We created our pitch deck designs by optimizing all the needs of a startup company to born and raise in the business pool. We are confident to say that our top pitch deck templates can help the startup founders and the startup companies to reach their goals by efficiently pitching the potential investors for their startup business by using our well-crafted pitch deck themes.
Conclusion for Pitch Deck Presentations:
A pitch deck template is the most effective and unavoidable tool for pitching investors to the business. Creating a highly converting and best pitch deck template is not a simple task; it consumes days of your time. Somehow if you did a pitch deck design by yourself, the chances of making that presentation attractive and minimal are very less until unless you are a professional designer. Why do you want to take that risk? Instead, buy a best pitch deck template from a professional presentation designing company, (of course SlideSalad is a leading presentation template provider in the world) with full confidence. This saves your time, money and credibility, at the end of the day, you can be successful in your business strategy presentation.
What do you think about the collection of our top, professional and best pitch deck templates which are available on SlideSalad? Show your response by purchasing one of the best pitch deck templates from us and publish your honest review about your purchase on our product review page.